Good Reasons to have a Business Website

A business website is very much cost effective comparing to any other form of advertisement. It is a lot cheaper than advertisements on the television, newspaper, magazines and the Yellow Pages. Best of all, it can be interactive i.e. an e-commerce website. Today, more and more people search what they need from the Internet. Many consumers will first "window shop" for prod­ucts online before they enter a physical store or make purchases online from e-commerce sites. Hence, with your business website up and running, listed on major search engines, your business is definitely reaching out to more prospects and customers locally and around the world. Nowadays, with the trend of more consumers going online to make their purchases, many entrepreneurs are cashing in successfully by doing business online with their e-commerce websites even though some of them do not actually have any physical business outlet. The website we design can also provide downloadable bro­chures of your business, products and services you offer, product guarantees and so forth. If you have to frequently distribute information about your business, services and products to customers and prospects, you can certainly produce this in a manner that can be downloaded by them from your site. With this function on your website, you can save a lot of time and costs i.e. manpower, postage and printing cost etc, at the same time, provide instant information to your prospects and customers. Although, an online store (e-commerce website) is a supplement or window to the physical business outlet, we encourage you to consider setting up a well-designed business website to cash in from the lucrative online market regardless that you have a physical business outlet or not. Because, the number of consumers making purchases online is continue growing day after day.
We design and build innovative, effective, practical, user-friendly websites and the most important thing is all the websites we designed are search engine friendly that score best search engine rankings……….
An effective website should be both user-friendly and search engine friendly. Search engine spiders have evolved to a new level of sophistication, which enables them to detect critical text, and structural content that goes far beyond simple Meta content. Search engines require lean, informative and readable sites for ultimate ranking. Many designers focus on the fancy aspect of a website and forget about SEO requirements.
One of the keys to obtain top rankings, or any rankings is making sure that the search engines can properly spider through and able to index the website. This means that we will do whatever we can to make sure that search engines are able to reach each and every page of the site as easily as possible. All the links in the site must be true hyperlinks that can be picked up properly by the search engines. We will make sure that all the pages within the site are reachable within 2-3 clicks from the homepage or from any other page of the site.
This will also enable visitors to find what they want from the site fast and direct; even a novice can navigate smoothly without any problem.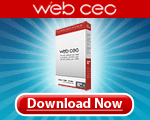 This website is powered by